Also Know As Enviromental Test Chamber, Humidity Chamber, Humidity Control Oven, Plant Growth Chamber, Seed Germinator Standard Set Points : 25°c 60% Rh/40°c 75%rh/30°c 65%rh/25°c 40% Rh / 40°c 25%Rh/30°c 35% Rh.
For Conditions As Per ICH Guidelines: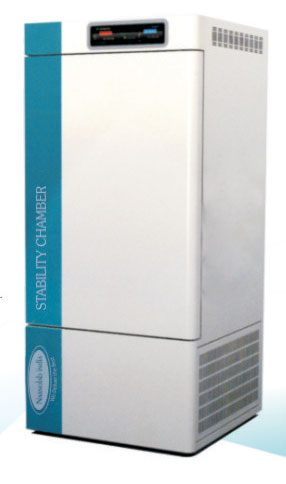 Temperature range: 10.0°C to 60.0°C. Accuracy / Uniformity: ±0.1 °C/± 1°C
Humidity range: 25% to 98% RH. Accuracy/ Uniformity ±2%RH/±3%RH
Temperature /Humidity display: Digital Big LCD Display and Digital LED Display forsafety controller.
Control: Microprocessor based PID Auto tune control. With Digital safety controller
Resolution: 0.1°C/1%RH
Temperature sensor: Rutronic make (Imported).
RH sensor: Rutronic make (Imported).
Heating: 'U' shaped Nichrome wire heater in SS sheathing.
Cooling: CFC free Copeland make compressor utilizing R 134 eco friendly refrigerant,with condenser, motor and relay.
Steam injection: Boiler with reservoir made of thick stainless steel, with heater, water inlet control, low water level safeguard.
Air circulation: Flange motor with impeller / blower.
Construction: Double wall, with puf insulation, outer door key lockable, inner glass viewing door.
Chamber illumination: Fluorescent light with touch keys.
Safety features

High temperature safety cut off
Low water level boiler cut off
Electrical overload cutoff relay for compressor
Time delay for compressor switch ON
Electrical circuit breaker

Feet: Castor wheels and leveling screws.
Trays: SS wire mesh heavy duty
Electrical: 230V/ 15A/50 Hz
Dimentions
Capacity
Internal Size
External Size
Shelves
Cu.ft
Liters
W x D x H cm
W x D x H cm
(SS)
3
90
43 x 43 x 50
65 x 114 x 130
2
6
180
51 x 51 x 70
79 x 121 x 130
2
10
300
55 x 55 x 100
79 x 121 x 165
3
12
360
60 x 60 x 100
79 x 121 x 199
4
16
480
65 x 65 x 114
79 x 121 x 247
5
30
800
80 x 80 x 125
99 x 141 x 199
5
38
1000
80 x 80 x 155
99 x 141 x 247
5
Optional Extras / Accessories
LC based system: PLC with HMI 3.7" touch screen grey monitor with 21 CFR Part 11 features software.
Magnetic door lock feature
GSM system: alarms sent to predefined mobile numbers
HMI: 5.7" touch screen grey in lieu of 3.7"
Digital PID controller with printer interface to connect EPSON Dot matrix line printer. Print interval programmable, can print date, time, temperature.
PC interface for above controller with software on CD & hardware or software with 21 CFR part 11 features
Imported RH sensor European make, Rotronic Switzerland for higher accuracy
Standby humidity system (except for 52 and 120 liters)
Standby refrigeration system (except for 52 and 120 liters)
Data logger: 4 point temp. + 4 point humidity data logger with sensors placed at specific points in chamber with printer interface and memory of 5000 readings per channel
PC interface for above controller with software on CD & hardware
STD MODEL
GMP MODEL
1) Outer cabinet mild steel powder coated.
1) Inner chamber stainless steel 304 grade.
2) Inner chamber stainless steel SS 304 grade.
2) Inner chamber stainless steel mirror finish
We provide DQ, IQ, OQ, PQ documentation.
Pre Installation Mandatory Requirement :
(Guarantee void in case of non compliance)
Distilled water OR DM water continuous supply with tap for boiler input of ½" BSP at 3 feet height
Room temperature around machine preferably at 25°C with air conditioning or a well ventilated room with exhaust fan However surrounding temperature should not exceed 30°C
Stabilized input voltage of 230V AC 20 Amps. Use of servo controlled stabilizer is recommended
Water drain line with ½" nozzle to be provided at floor level
Stability testing of pharmaceutical products is an essential method of determining "shelf life" (i.e. expiration dates) and storage conditions. The purpose of stability testing is to provide evidence on how the quality of a drug substance or drug product varies with time under the influence of a variety of environmental factors such as temperature, humidity, and light, and to establish a re-test period for the drug substance or a shelf life for the drug product and recommended storage conditions. A stability test period can range 6-12 months depending on the protocol. The test period including the temperature and humidity (RH) conditions is determined based on ICH (International Conference of Harmonization) guidelines. ICH test conditions can be one of the following: 25C/40%RH, 25C/60%RH, 30C/65%RH or 40C/75%RH. ICH requires conditional tolerances of +/-2 C and +/- 5%RH.
The choice of test conditions defined in this guideline is based on an analysis of the effects of climatic conditions in the three regions of the European Commune (EC), Japan and the United States. The mean kinetic temperature in any part of the world can be derived from climatic data, and the world can be divided into four climatic zones, I-IV.. The principle has been established that stability information generated in any one of the three regions of the EC, Japan and the United States would be mutually acceptable to the other two regions, provided the information is consistent with this guideline and the labeling is in accord with national/regional requirements. All the Pharma products manufactured are subjected to be analysed by the test Methods which are common and as per the norms meeting the criteria's identical to these zones. To simulate similar conditions stability chambers were designed enabling similar conditions of testing of Drug substances world wide.
Stability chambers are for efficient air flow that guarantees temperature and humidity uniformity under extreme loading conditions and never limited by Location. Stability chambers may also be referred to as environmental chambers, temperature control rooms, humidity control rooms, temperature chambers, and / or humidity chambers. Stability chambers are designed as per ICH guidelines and are manufactured to comply with the requirements in industries for stability and shelf life test on drugs and drug substances. The chambers have outer body of SS 304 (dull buff finish) and inner chamber of SS 316 (mirror finish). The chambers are equipped with capacitance type humidity sensor for direct display of humidity and temperature.
M/s NAANOLAB INDIA With an in-house engineering and design team, including experts for refrigeration systems, qualified engineers, and trained design specialists who have has the experience and expertise needed for a wide range of custom designed environmental chambers had developed state of the art Stability Chambers adhering to all the norms as per ICH guidelines. Our stability test chambers incorporate high-efficiency commutated fan motors, vapor generators, high density CFC-free urethane insulation, and automatic shut off of thermoelectric refrigeration units at above ambient temperature set points with an controller accuracy of + 0.1⁰C. FDA/ICH requirements pertaining to stability chambers are also met such as environmentally friendly and explosion safe, by incorporating energy-saving design features and high-efficiency components without sacrificing performance. Our every individual standard Stability Chambers with varied capacities are packed with all the features which are statutory requirements of ICH guidelines. Upgraded models with 21 CFR Compliant software , 4 and 8 Channel data loggers with user friendly software controls are available to suite your requirements. We also provide DQ/IQ/OQ/PQ for Stability chambers as a complimentary package.
The increasing adoption by industry our collaborative efforts of providing innovative solutions, With aim to offer Our expertise using a unique combination of analytical Approach capabilities, Technical Expertise and Quality Instruments to make its mark over industries which will result in the rapid growth of NAANOLAB INDIA in forth coming years. To cater to fast growing industry needs we intend to provide effective Instruments & its accessories which are sturdy as German machines, electronically advanced as Japanese machines, precise and accurate as American and European machines, easy to operate and that way cost effective as Indian Machines in the long run. Acknowledging the realities and improving business structure while steadfastly adhering to customer feedback and ascertaining global standards we look forward to enjoy long term association with your esteemed organisation.